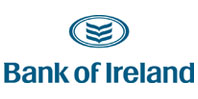 Just noticed this on the Bank Of Ireland website –
If calling from your mobile, the new number for Bank of Ireland phone banking services is 0818 365 365. If you are calling from a landline, however, you can still use 1890 365 365.

From 8th September 2010, customers will only be able to reach us from a mobile by using this new number – 0818 365 365, while landline users will still be able to use 1890.

Since calls from mobiles to a 1890 number are significantly more expensive to operate, the Bank has followed other major companies and introduced a new 'telenumber' to cater for these calls. In most cases there will be no difference in cost to customers calling from their mobile since mobile operators generally charge the same for a 1890 call as a 0818 call. However, you should check with your mobile service provider for more information on your own charges.
To paraphrase Bank Of Ireland here:
We're using an 0818 number instead of 1890 for customers calling from mobile numbers (the growing majority of our customers since numbers of landlines are falling) so that we can make money off our customers even as they call us for our help.
It costs businesses to provide an 1890 number, but businesses make money for themselves from an 0818 number. So, in theory, the longer you're held on the phone when they make this change, the more money they'll make for themselves.
It'd be interesting to see if there's a longer wait time for Bank Of Ireland clients from September 8th.
Don't forget though, that the geographical alternative for the 1890 or the 0818 numbers is still 01 404 4000.